DEMO
Live demo of Desire Theme being used to build a weebly website.
SETUP
Need help building your website? Request an Inhouse design solution.
Desire Weebly Theme
What message does your website present to your visitors? and what message would you like it to say? Do you "mean business"? or are you just giving this "a try"?
Desire theme dressing up your website tell your visitors that you "mean business", that you are credible, professional and able to deliver. Therefore be sure you're fully prepared because the moment you install desire, businesses starts coming in.
Desire theme presents you with an easier way to build top most professional weebly website with content plugins and tools proven to make a difference.
Easy installation
Drag and drop the theme zip file to install. We have included a detailed step-by-step documentation and a video showing how to install the theme. If you have any issues installing (100% unlikely), we'll help you install it FREE!
Section element
Because this theme supports SECTION element, you will be able to easily and effortlessly build multiple content sections with background images, videos and colors.
SEO friendly
Search engine is very important in building a strong online presence. Whether your website is or should be SEO friendly is not something to take lightly. Desire theme has clean source code with an SEO-ready structure which means search engines such as Google, Yahoo/Bing and Yandex will love your website.
Live customizer
See the changes happen as you make them. You will simply click on theme options to customize the theme however you want. You will see the color change as you change it, see number of testimonials reduced as you reduce it, see a social icon added as you add it, etc.
Mobile ready
With so many people now accessing websites via mobile devices, you can't really afford to have a website that's not 100% responsive. The layout of this theme automatically adapts to fit on any screen resolution on desktop and mobile devices.
Full support
Your purchase of this theme entitles you to support. You will have access to detailed theme documentation, videos, blog tutorials, a ticket support system and ability to contact us directly and work with any of our team member, if necessary.
THEME TYPE
Dark or light theme?
Not crazy about how the logo blends in with the background? Would you rather have a white header to place your logo and menu? Well, it's possible. Desire theme has both dark (default) and light theme types. Make the switch from dark to light and vice versa within theme options.
TITLE STYLES
4 styles and no style.
Choose from 4 different styles for the title element. Within theme options select style 1, 2, 3, 4 or no style.
TESTIMONIALS
PinBoard testimonials
Display feedback you collect from clients using this remarkable plugin. With just a click, edit testimonial texts and upload photos.
Within theme options disable testimonial names, photos and pins. You can show 4, 8, 12, 16 or all 20 testimonials.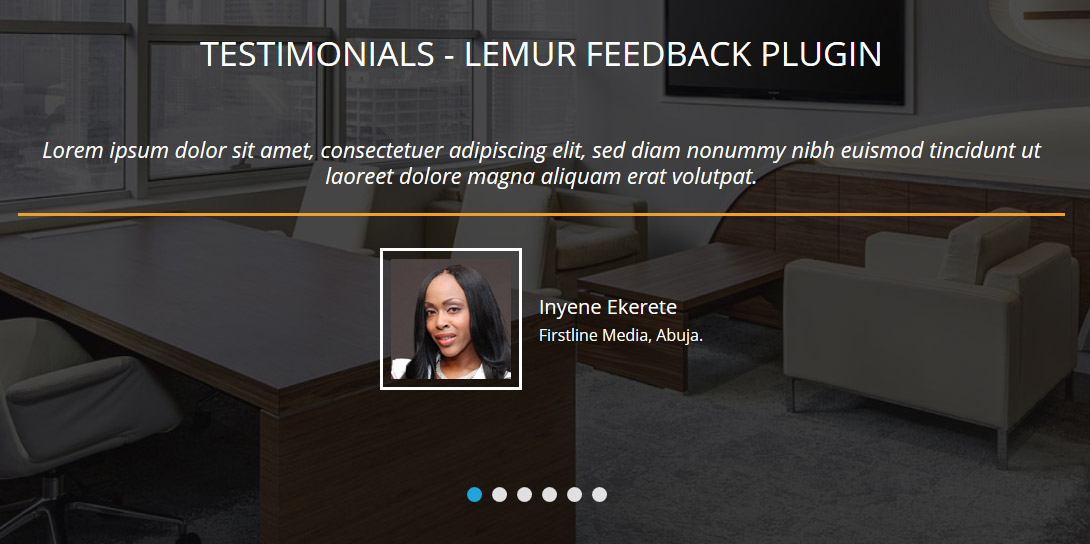 TESTIMONIALS
Lemur feedback
Interactive testimonials builder plugin for weebly websites. Click to edit testimonials texts and upload photos. Within theme options select to show 2, 4, 6, 8 or 10 testimonials.
PRICING
Gravel pricing plugin
Wish to show pricing plans for your products and services? Use this built-in weebly pricing plugin to display pricing plans. One of the exciting thing about this pricing plugin is that you can show pricing options for both monthly and yearly subscriptions or you can show either monthly or yearly.
FLIPER CONTENT
Interactive content plugin
An interactive Weebly plugin that can be used to display "services", "team profiles", "news items", etc. It's suitable for any purpose. Just click to upload your image/icon then click to edit the texts and link.
SLIDER
Cubicle feed slider
A content slider plugin that can be used to display blog feed, events, portfolio samples, etc. Click to edit texts, drag and drop image element to build.
Display any kind of content using this drag and drop weebly popup plugin. Drop any content element on the popup content area, display popup trigger links anywhere on your website including blog posts.
LANGUAGES
5 language flags
Do you have your website in more than one language? Link them with each other using the built-in language widget. Click to upload image (flag), then click to link to your website.
Within theme options, you can show 2, 3, 4 or 5 flags. You can also turn off flags.
Your contents are safe
Installing this theme will not affect your contents. All your contents will be transfered to this theme, you can then drag them around to re-arrange and place them where you want. Regardless, we recommend that you backup your theme before installation.
24 beautiful header types
Choose from 24 amazing page layouts to build your contents. Each layout is well designed with unique features and tools proven to drive best web presence.
Lifetime free updates
You will be notified once there's an update available for this theme with instructions on how to download or re-download updated version for FREE.
15 Colors
Desire theme comes with 15 web-safe colors to choose from. From dark color to light color schemes, you'll be able to switch between colors with just one-click.
Theme Options
You will be able to turn on/off any feature you don't want within theme options. If you don't need cart, turn it off, don't need search, turn it off, etc. It really couldn't be easier.
We can help
For as low as $24.99, we will help you customize the theme so that your website looks exactly how you want it to. learn more.
TAKE NOTE!
With external hosts such as ipage, blue host and others, we cannot guarantee 100% compatibility. this is because some of these hosts do not have the latest version of weebly.
Also, some host might charge additional fee for importing a theme or using some weebly features. Please check with your hosting provider before making a purchase. Weebly does NOT charge any amount for importing theme. If you don't have a weebly account, create one here
READY TO START BUILDING WITH DESIRE?
Like Desire Theme?
If you like Desire theme then you might also like this other weebly theme.